.bootstrap-dialog .modal-header.bootstrap-dialog-draggable{cursor:move} var krajeeDialogDefaults_71c625b2 = {"alert":{"type":"type-info","title":"Information","buttonLabel":" Ok"},"confirm":{"type":"type-warning","title":"Confirmation","btnOKClass":"btn-warning","btnOKLabel":" Ok","btnCancelLabel":" Cancel"},"prompt":{"draggable":false,"title":"Information","buttons":[{"label":"Cancel","icon":"glyphicon glyphicon-ban-circle"},{"label":"Ok","icon":"glyphicon glyphicon-ok","cssClass":"btn-primary"}],"closable":false},"dialog":{"draggable":true,"title":"Information","buttons":[{"label":"Cancel","icon":"glyphicon glyphicon-ban-circle"},{"label":"Ok","icon":"glyphicon glyphicon-ok","cssClass":"btn-primary"}]}}; var krajeeDialog_63269c26 = {"id":"w0"}; var krajeeDialog=new KrajeeDialog(true,krajeeDialog_63269c26,krajeeDialogDefaults_71c625b2);
BEST IAS COACHING IN Tinsukia, Assam
BEST IAS COACHING IN TINSUKIA, ASSAM:
Classic IAS Academy welcomes IAS Aspirants from Tinsukia:

Classic IAS Academy welcomes Tinsukia, Assam and North Eastern IAS Aspirants to pursue IAS as their dream career. We have a special place and recognition for all our North Eastern IAS Aspirants and as per our Constitution the North-Eastern states have been granted special privileges under Article 371 which provides a special status that aims to preserve their tribal heritage.
Presently 25% of our students pursuing IAS Coaching are from North Eastern states and we have a special focus on the NE aspirants thereby providing them the best in class IAS Coaching
Over a period of time the academy has gained expertise in developing proven techniques and methodology through its dedicated research team, which are found immensely useful by the IAS aspirants and based on its continuous research, we have been able to deliver consistent successful candidates in cracking the IAS exam and the counting is on………
Classic IAS Academy mainly focuses on the following key aspects of IAS Coaching:
Coaching by the renowned, experienced and highly qualified Faculty
Intelligently Designed Marathon Test Series
Moderate Batch Sizes
Interactive Learning & QA sessions
Relevant and Smart Analysis of the Current Affairs
Loads of Free Resources
Well researched and proven techniques on Answer Writing
Time Management & Strategy
Well Crafted Printed Study Material
Full Course Coverage including Optional Subject
Enriched Interview Guidance Program
Apart from impeccable course module, our staff assists Tinsukia IAS Aspirants in finding the suitable accommodation near the class room centre's and possibly in the vicinity of IAS aspirant's community living.
Course Availability for IAS Coaching in Tinsukia, Assam and North East:
S.No.
Type of Course
Course Duration
Mode of Delivery
1
Offline-Class Room Program
(Conducted only at our Karol Bagh and South Delhi Centre's at New Delhi)
12 Months
Hybrid
(Offline + Online)
2
Recorded On-Line Classes
(Can be done from any place across India)
12 Months
Online Only
3
Live On-line Classes
(Runs simultaneously with the Offline Class Room Programme and can be done from any place across India)
12 Months
Online Only
Classic's Offline-Class Room Programme covers General Studies Foundation (Prelims + Mains + Essay +CSAT+ Test Series + Interview Guidance including Mock Interviews by Ex-UPSC Board Members)
Classic's Recorded & Live Online Programme covers General Studies Foundation (Prelims + Mains + Essay +CSAT+ Test Series)
Optional Courses are conducted in History/Geography/Public Administration/PS&IR/Sociology
Why Choose Classic IAS Academy:
We are in the field of IAS Coaching for the past 12 years and now we have 3 centres in Delhi! In Karol Bagh, Old Rajinder Nagar and Bhikaji cama Place (South Delhi)
Our full course is for duration of 52 weeks/1 Year
We have developed our in house techniques, methodology and patterns on which we have a copyright and these techniques shall help the student to face the exam with confidence and their chances of clearing the Prelims, Main or Interviews increase many a fold.
We have a dedicated research team which continuously updates these techniques and patterns depending upon the changes made by the UPSC.
Right kind of mentorship and guidance to hand holds the candidate to the destination.
Our batch sizes are not crowded and are moderate for better interactions, personal attention and are participatory in nature.
Since our batch sizes are moderate, we are able to deliver better results and thus the exam passing rate is better. We have delivered 60+ selections in the year 2021, 80+ selections in the year 2020 exams, 54 selections in the 2019 and 120 in the year 2018.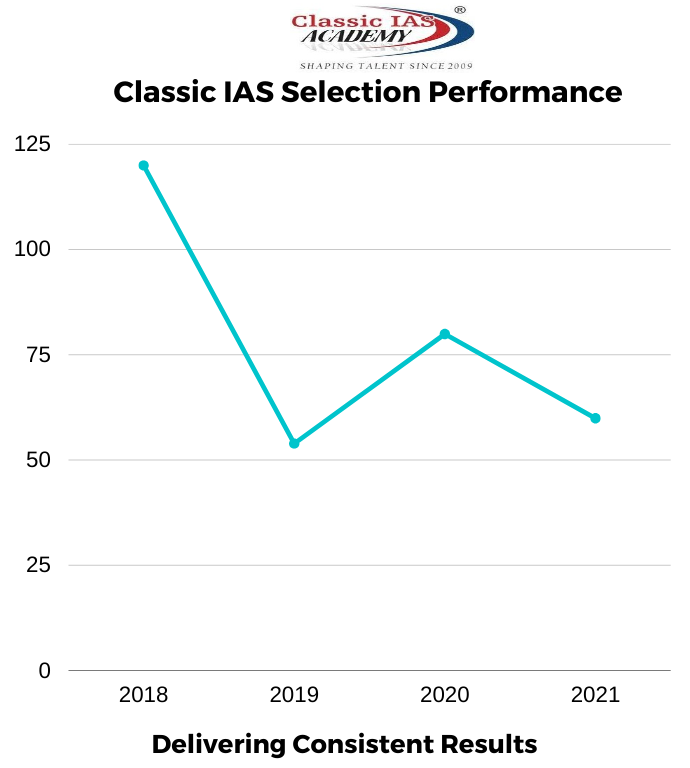 We teach on the smart boards and white boards using better digital teaching techniques.
We provide full study material in the form of printed set of books, hand out and notes.
The Classic Monthly E-Magazine on the current affairs is issued every month.
Further gift hampers are also given on clearing the various stages of exam.
We also have get-together sessions with students on selections and achievements and thus make the atmosphere full of fun and frolic.
We teach on the smart boards and white boards using better digital teaching techniques.
We provide full study material in the form of printed set of books, hand out and notes.

We teach on the smart boards and white boards using better digital teaching techniques.
We provide full study material in the form of printed set of books, hand out and notes.
The Classic Monthly E-Magazine on the current affairs is issued every month.
Further gift hampers are also given on clearing the various stages of exam.
We also have get-together sessions with students on selections and achievements and thus make the atmosphere full of fun and frolic.
We further pound you with lot of free resources, interactive sessions, workshops and personality development sessions.
Well designed and structured courses as per the need of the student in both Class room and Online Modes.
Fully Air conditioned and well-furnished comfortable classrooms
Trial classes are available to the students absolutely at no cost. Students can visit us to attend the live classes on trial basis.
Dedicated mentorship available to each student individually to address the academic, preparation related, career related issues and act as a bridge between the faculty and the student.

Call us For an Expert Counseling on IAS Coaching at 9818740741


T&C apply

jQuery(function ($) { krajeeYiiConfirm('krajeeDialog'); });